Help us save flowers and horses!
Travelling on a plane is a perfect opportunity to spend some time on things which I haven't done for a while. The phone is off, no need to worry about emails, phone voicemails, enquiries, business related issues. Don't get me wrong, I love my job, but sometimes my hobbies lose their priority. Running my business takes plenty of time and energy and the good old hobbies lose priority. On the plane, suddenly I find that I can hide in my own little world, I put on my preferred music and read as much as I can. I opened up an old issue of National Geographic Magazine which I hadn't had a chance to read yet and started to learn about food consumption, the massive issue of food waste and how much food is ending up being dumped. Simply because the standard isn't quite up to the supermarket quality expectations. The food is quite edible, just not perfect to look at these stats Of course, I then started to think about the flower industry. By the time the flowers get to our stores how many quality checks and different stages have they been through? How many have been rejected for a small flaw? Some researchers say that as much as 50% of flowers are discarded before they ever been used. This made me think about how I can reduce the whole waste issue in my own shop and give second chances to these flowers.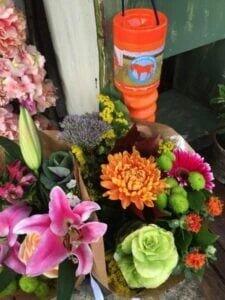 It led me to this idea:
I am going to make up smaller mixed bunches made from slightly lower quality flowers (known as A2 flowers) still pretty of course, or flowers a little bit older. We will display the flowers with no price tag. The customer can decide how much they are willing to pay for those bunches and leave the money in a special charity "honesty box" beside the display. We will pass on all of the money that comes through these sales as a donation. We support My Lovely Horse Rescue These guys are great warriors, they are standing up for animals who, sort of like the flowers above, have been neglected, who are suffering or are just a little bit old. This charity gives the animals a second chance too... They mainly rescue horses, donkeys and ponies. But on their farm, you can also find rescued cats, dogs, goats and even Wilbur the celebrity pig. He even has his own Facebook page! These guys also understand second chances. Special thank you goes to Martina Kenny for the great photos! So, spread the word and help us by supporting our initiative and telling others about it too. What other ideas will hit me the next time I'm on a plane I wonder!