Christmas Flowers / Wintertime hidden gems
I am just back inside from a walk in one of the more remote parts of Wexford in southeast Ireland. Now I have just sat down in front of my computer to write this latest blog where there are no cars and no distractions. This place is perfect for recharging the batteries and getting more ideas from nature ...and here, we are much closer to nature, closer to its energy... I can feel the pace of life and nature itself at this time of year has slowed down to a crawl.
What nature offers us
Coming up to Christmas time, what can nature offer us to dress up our homes for these festive times? What alternatives to the ordinary and the other seasons? Winter time is about the sleeping time so we can work with what nature offers us. Obviously as things all around are in hibernation and are asleep, this seems very small, but there is still plenty enough for us to work with.
For example, there are loads of lovely twigs with no leaves, there is winter greenery such as populous eucalyptus and berries. These are perfect materials to start off with, or for example simply just to give us an extra finishing touch. Of course in cities everything can be much easier to access and makes it easier for us all to be surrounded by the simple winter gems.
We delight in using: dried fruits, cones, chestnuts, walnuts and anything that nature can provide. We can collect these throughout the year from late summer onwards and dry them out. These bits and pieces are perfect for rustic Christmas displays.
Whatever we decide to make, be it door wreaths, table arrangements, garlands... all these basic ingredients are available all around us....
To give a finishing touch, we can use cinnamon , cloves , candles and pretty pretty ribbons.
We are of course aw ever dying to hear your ideas. If you want something specific put into your arrangement, just talk to us and we are happy to work with you. Who knows, we might even learn something ourselves!
Christmas is definitely one of the most fun, colourful times of the year when it comes to floristry. The ideas are only limited by your imagination.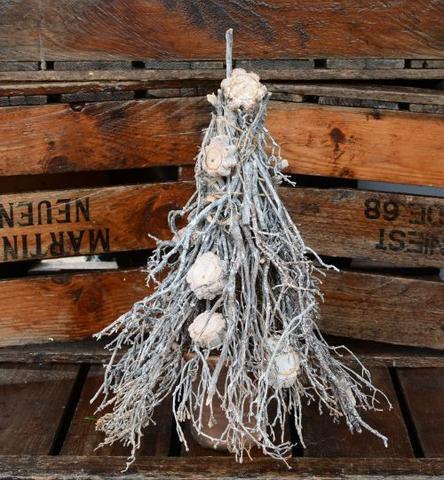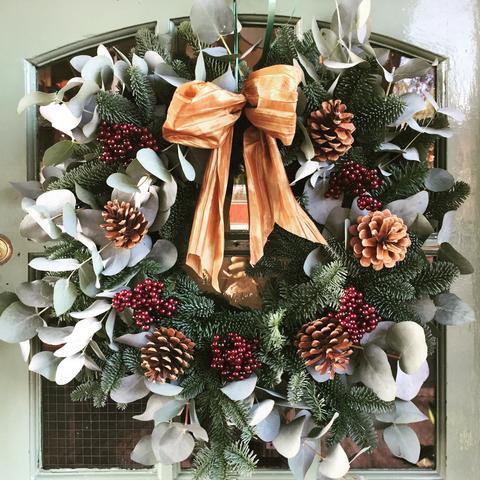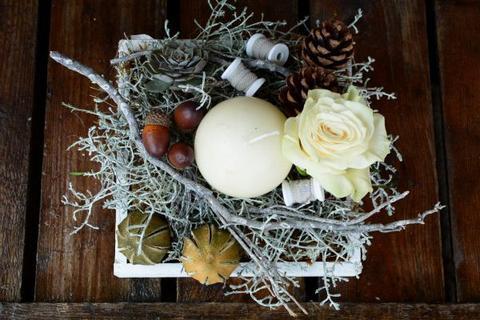 Second Chances
Help us save flowers and horses!
Travelling on a plane is a perfect opportunity to spend some time on things which I haven't done for a while. The phone is off, no need to worry about emails, phone voicemails, enquiries, business related issues.
Don't get me wrong, I love my job, but sometimes my hobbies lose their priority. Running my business takes plenty of time and energy and the good old hobbies lose priority. On the plane, suddenly I find that I can hide in my own little world, I put on my preferred music and read as much as I can. I opened up an old issue of National Geographic Magazine which I hadn't had a chance to read yet and started to learn about food consumption, the massive issue of food waste and how much food is ending up being dumped. Simply because the standard isn't quite up to the supermarket quality expectations. The food is quite edible, just not perfect to look at these stats
Of course, I then started to think about the flower industry. By the time the flowers get to our stores how many quality checks and different stages ave they been through? How many have been rejected for a small flaw? Some researchers say that as much as 50% of flowers are discarded before they ever been used. This made me think about how I can reduce the whole waste issue in my own shop and give second chances to these flowers.
It led me to this idea:
I am going to make up smaller mixed bunches made from slightly lower quality flowers (known as A2 flowers) still pretty of course, or flowers a little bit older. We will display the flowers with no price tag.
The customer can decide how much they are willing to pay for those bunches and leave the money in a special charity "honesty box" bedside the display. We will pass on all of the money that comes through these sales as a donation. We support
My Lovely Horse Rescue
 These guys are great warriors, they are standing up for animals who, sort of like the flowers above, have been neglected, who are suffering or are just a little bit old. This charity gives the animals a second chance too...
They mainly rescue horses, donkeys and ponies. But on their farm you can also find rescued cats, dogs, goats and even Wilbur the celebrity pig. He even has his own Facebook page! These guys also understand second chances. Special thank you goes to Martina Kenny for the great photos!
So, spread the word and help us by supporting our initiative and telling others about it too.
What other ideas will hit me the next time I'm on a plane I wonder!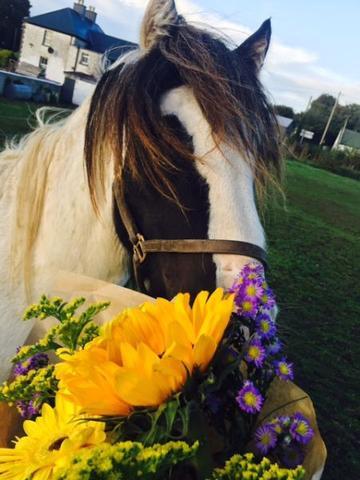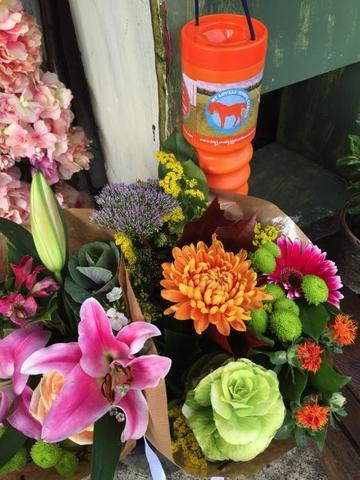 Sunday opening - We are open Seven Days a week
At Green Door Florist we believe in making our shop available every day of the week and so we have Sunday Opening. We need a little down time ourselves so we have a shorter working day, but from 11.00 to 3.00 we are there, and you can call in and pick up something for that Sunday lunch gift or summer barbecue party.
We also do flower delivery Dublin on Sundays so if you can't pick up, we will drop the flowers, bouquets, arrangements or gift items to the door for you. On Sundays, this just covers Dublin city. We are in Clontarf, so Fairview, Raheny and Artane are all easy, Malahide and Skerries also not a problem and the southside is only a hop across the Liffey so we will do that too.
So for birthdays, special family celebrations, anniversaries christenings, confirmations and communions, we are there for you. Just call in, call us up or order online. Whatever suits you best.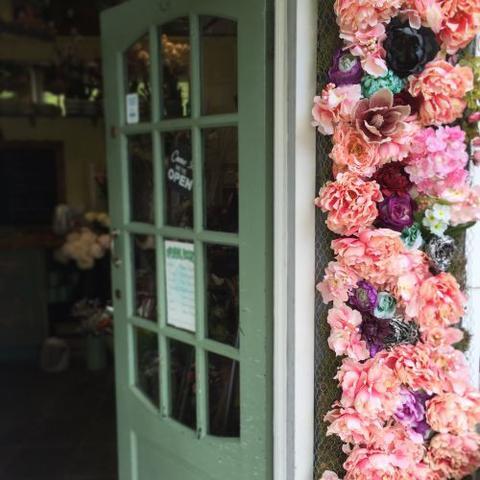 International Lonely Bouquet Day
It's lonely bouquet day in Green Door Florist! It is always a pleasure to work with flowers at the best of times. However, sometimes we enjoy spreading smiles and showing the love throughout the year. On random days from time to time, we deliver flowers all over the city in small decorative tins. We leave them in assorted public spots with a note telling the person who finds our lonely bouquet, to take it away and give it a good home. This always gets a good reaction.
The notes say:
"The Lonely Bouquet
Adopt me, please! I'm all alone and looking for a new home… perhaps I can live with you or a loved one? Our flower friends would love to hear from us and find out where we ended up! Please let them know at: www.greendoorflorist.com, or www.facebook.com/thegreendoorflorist.com"
This summer on the last Sunday in June, this has become a tradition all over the world! We are delighted to have been one of the first florists in Ireland to join in on this lovely initiative and we have been doing this for the last three years.
This summer, we have done three lonely bouquet days so far. The reactions are always positive from some very happy people! Here are a few: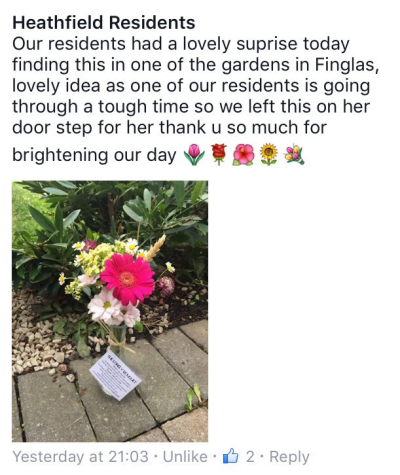 We love events!
A special floral display is sometimes required for events.
Recently, Green Door Florist was invited to be a Premium Sponsor of the fifth annual Hungarian Culture Days celebration (http://www.hungarianculturedays.com) in Dublin City Council's Wood Quay function room and Filmbase in Temple Bar. Designed to celebrate the integration of the two cultures of Hungary and Ireland, this most special of events this year lasted for four days.
The organising committee timed the event to happen during the time of Pentecost which is a culturally important time in Hungary and other Eastern European countries. During the four day festival, the event showcased dancing, ancient stories covering Hungarian Tales and Celtic Legends, food and wine and of course flowers... The cultures and traditions of both Hungary and Ireland were celebrated.
The presence of the Hungarian community in Ireland as a growing community within the state was acknowledged by the representative of Dublin's Lord Mayor Mr. Ruairí McGinley.
The best of Hungarian food and wine was on offer and was truly excellent and enjoyed by all. From langos to "chimney" cake, homemade sausage (akin to the better known chorizo) and the often overlooked Hungarian wine it was truly a feast fit for a king!
Taste and colour was the order of the day, so the floral displays supplied for the celebration had to be special. I decided to focus on both the national colours and national symbols.
All of the arrangements had a natural feel to try to give the effect of being just picked from nature. This reminded me of my childhood walking in the fields at this time of year!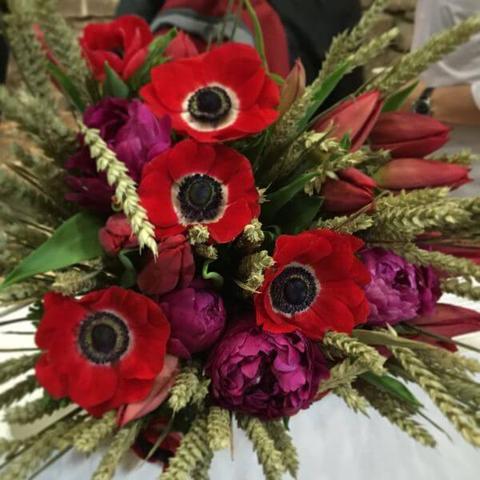 So, in this bouquet, designed for the formal opening night, peony roses (known in Hungary as the Pentecost rose as it blooms at that time of year) were used alongside red tulips symbolising the most ancient Hungarian folk motif and femininity. Poppies are very common in Hungary but as they don't last long in arrangements, I replaced them with anemones.                   There were two other arrangement styles for which the inspiration was the colours of the Hungarian flag: red, white and green where the natural feel I hope comes across with our moss bases.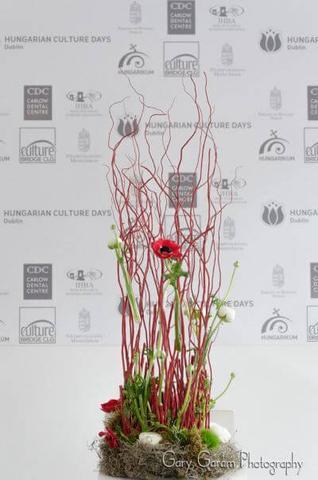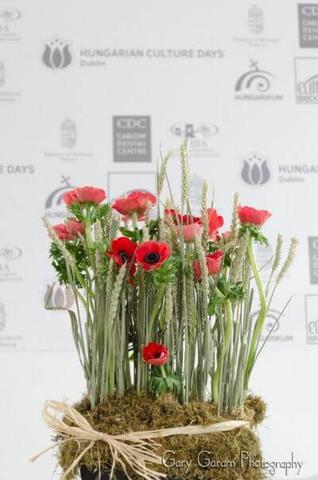 It is this kind of opportunity that really lets me express myself. In this case, it was a delight to be able to be that little bit different and to evoke my childhood memories through the wonderful texture, colours and smells.
Acknowledgements:
Organising committee: Beatrix Fekete, Andrea Nagy, Norbert Soltesz. Photographer: We would like to acknowledge photographer Gary Garamvolgyi.
Photo Shoot: - Lights, Camera, Action!
We are having such fun with flowers for a photo shoot! Green Door flirts with fashion for the first time this month with Geza Oravecz Photography and Marta Krawczyk.
Geza Oravecz, is known not only as the hunky personal trainer in X-Body E gym, but also as a fashion photographer. He has photographed such stars as Rosanna Davison (Miss World 2003), Holly Carpenter (Miss Ireland 2011), Alan Hughes (TV3 presenter). He has also worked for different magazines like www.suburbiaweddings.ie and panto.ie. He also specialises in portraits from fashion to family. You can find more on Geza on Instagram, Facebook, or www.gezaoravecz.com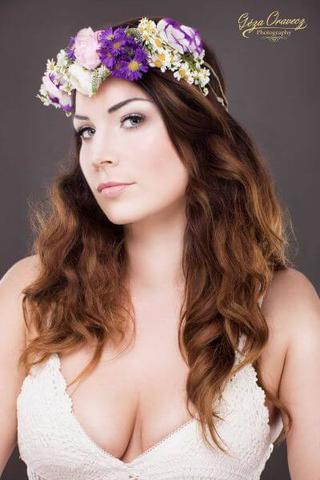 Geza and stunning plus size model Marta Krawczyk got together to do a photo shoot for Marta's portfolio and also with some other models. We were asked us to do the flowers. We spoke to all of them and discussed what was needed. Head pieces and corsages was the answer. We were delighted! Usually these delicate arrangements are only put together for weddings and debs balls, but this fashion photo shoot meant that we could really express ourselves and go for it!
We spoke to Marta, one of the models. Marta is a 30 year old Polish girl. She started out on an adventure with modelling about five years ago, noticing the new need for plus sized, curvy models. She sent a few of her pictures to agencies and landed a contract. Marta's life has changed since then. She became more confident, more open to meeting new people and would you believe, a lot more happy! She took part in lots of photo shoots in the commercial for the Polish magazines "Super Linia" and "Instil". She also took part in catwalk fashion shows in both Poland and Ireland. She presented fashion pieces on TV3 and on Ireland AM. What a superstar! She tells us that modelling is an adventure that gives her a lot of joy and happiness.
(You can find out more about Marta)
So, look what we did!
Photo Shoot Model Marta Krawczyk
Here is Marta looking simply spectacular in a crown of purple delicate soft feminine colours. We combined September flowers, lisianthus, veronica and other soft meadow flowers for this crown, to give the illusion of dewy petals just picked and placed on her head. Ingrid (a designer with the Green Door team) made sure that the crown is complimented with the delicate wrist corsage, which in the last picture is set to accentuate the décolletage.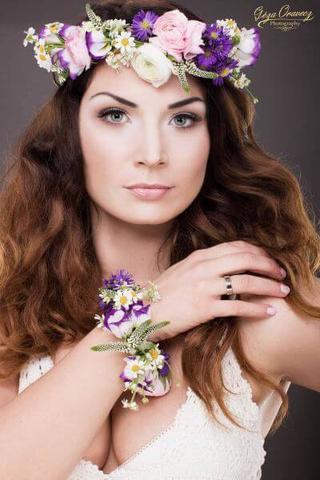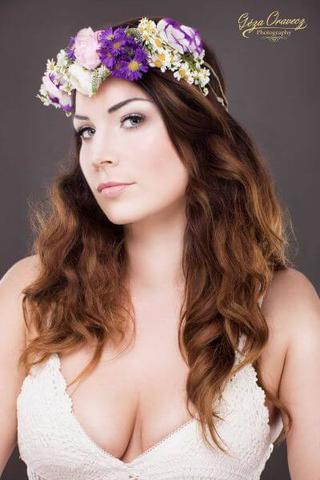 Here are two other creations put together by us, ranging from the spectacular large floral crown to the simple but dramatically beautiful single Peony rose head piece displayed in this picture.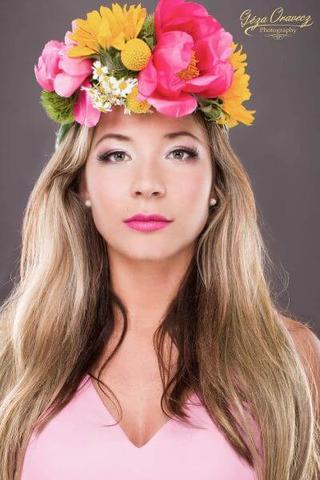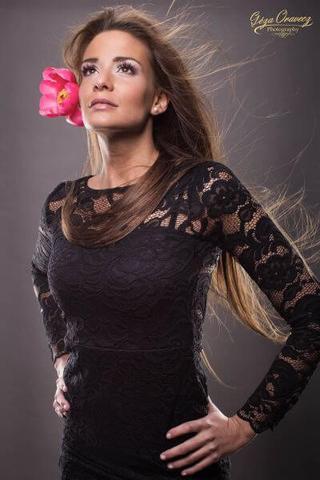 We hope that you enjoyed our voyage into the fashion world and that it will inspire some ideas for you for weddings, debs balls or any dinner parties and special floral occasions!
We have had a blast putting together this unusual blog post and we hope you have had fun reading it.
Foraging Flowers at Ballymaloe, Co Cork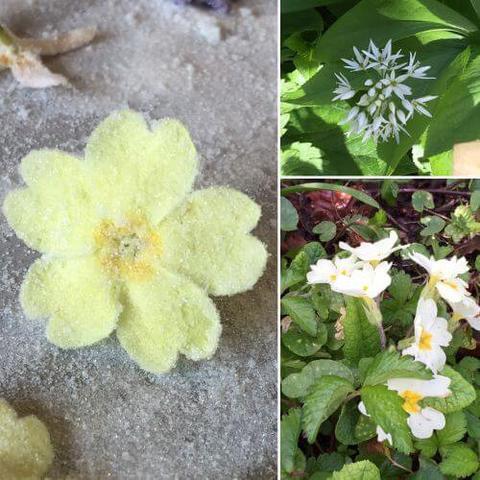 Foraging can be great fun , we had the opportunity to attend a foraging course with Darina Allen in Ballymaloe in Cork. What a fabulous attitude and what a wonderful place. We were reminded of the beauty of nature and the simple goodness and beauty that is all around us.
Many people already know all about foraging from knowledge and traditions handed down through the generations. Simple things, but easily forgotten if not handed on.
As part of the course, we found ourselves eating primroses, wild garlic flowers, daisy petals, beech leaves, gorse flowers , nettles and dandelion leaves. All good to eat, surprisingly tasty and of course free! These wild grown plants can also be used in beers, wine, soups and cooking.
This all serves to remind us that it is a fabulous idea to eat fresh, in season and local.
Benefits of foraging
We must not lose sight of the importance of organic growing in all things. In the floristry industry, organic flowers are still rare. We are however looking into sourcing organic flowers as part of our offering and hope to have news soon on this.
When out and about now, we find that our eyes have been opened to the beauty and wonder of nature all around us and to the wide range of cultivated and wild flowers and plants on our doorstep.
Well, we don't sell edible flowers yet, but we still recommend that you look at and smell our flowers but don't eat them!
Earth Day at Green Door Florist
We are approaching Earth Day "April 22nd". This is a global day set aside for us all to celebrate the beautiful planet that we have the privilege to live on. It is also for us to consider the impact that we are having on the fragile ecosystems all around us and how best we can limit the negative impact we have on them and even help to protect and rebuild them using nature as a guide. It is our responsibility to try to ensure as best we can, that we leave our earth the way we found it. It is sometimes hard to change everything at once, but by changing small things it by bit, even with baby steps, we can all help to make a difference.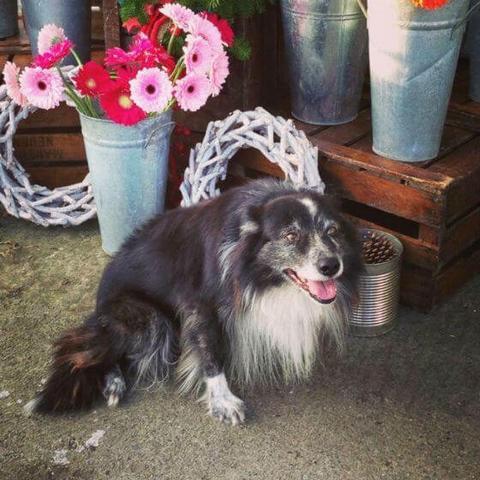 This year, Earth Day, which began as an annual celebration in 1970, will be marked by many in the media. Celebrities such as Leonardo DiCaprio, James Cameron, Brad Pitt, Kate Blanchett, Pearl Jam and many more are strong advocates of halting or slowing environmental change. Many organisations such as Greenpeace, National Geographic Society etc. are also working working to help to save our planet. The rate of change in all industries and ways of life is very rapid. Over the last few decades alone the information technology sector has changed life in many ways, many positive ways it must be said, However, the increased pace of life and the ease with which we can virtually and actually explore our planet, comes with a cost. The environmental impact is huge and although great strides to halt increasing pollution across the globe have been made, many feel that we may already be too late. We must all rally together and pay attention to the campaigns to help to reduce the damage and we must do it now.
Many different species of plant and animal are disappearing at a frightening rate. The ice caps are melting alarmingly and pollution is on the increase. There are millions of environmental refugees made homeless every year suffering from the impacts of rising seas and failing crops due to climate change. This number is rising at a staggering rate and is predicted to be 250 million people per annum by 2050...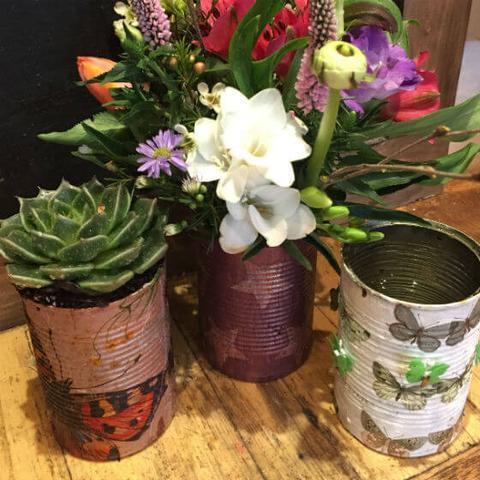 So can we do this Earth Day
At Green Door Florist, we are changing. We have made steps to move from toxic and environmentally harmful products to green and eco friendly products such as our cleaning detergents for the vases and also the products we used to clean the floor, windows and shelves. We moved to long life low energy light bulbs during the year. We are currently sourcing local growers who use seasonal flowers to cut back on air miles and energy used in forced growing.
The packaging in florist shops has for many decades been cellophane. It is a wrap chosen by the market and so many florists simply provide it. We offer an alternative using recyclable brown paper to wrap our bunches and we also use a minimum of cellophane in wrapping bouquets. We use raffia (a natural palm leaf product used to make baskets) as a tie and not plastic ribbons. We believe that the flowers are beautiful enough and don't need plastic to enhance them. It is up to us all to make the change and make greener more environmentally sensible choices.
For our flower arrangements, we offer an alternative to the oasis product (a petroleum based product which is very difficult to recycle). Instead, we offer the use of chicken wire and floral fogs which are every bit as good and can be re-used many times.
We love up-cycling!
We are famous for our "Lonely Bouquet" concept where we leave surprise small arrangements around the city to cheer people up. We are delighted to say that thanks to Wildo the dog, these are based on old dog food tins (cleaned of course!). Our customers are a great source of up-cycling too as they drop in old jam jars and the like to us regularly so we can use these.
In our bouquets and flower arrangements, we favour natural materials such as willow, birch bark. Many of our customers actually bring back willow and birch bark to re-use and many local gardeners drop in the moss from their gardens and twigs etc for us to include in our displays.
We undertake to continue to make steps towards a greener more environmentally aware shop. This is our promise to our earth. Will you support us?
Hungarian Culture Days 2015
Hungarian Culture Days is an annual, vibrant 4-day cultural festival in Dublin, showcasing the very best in Hungarian culture, art and heritage. We here at The Green Door Florist Clontarf had the privilege of sponsoring this year's event which took place at the Smock Alley Theatre on Friday last and what a wonderful night it was.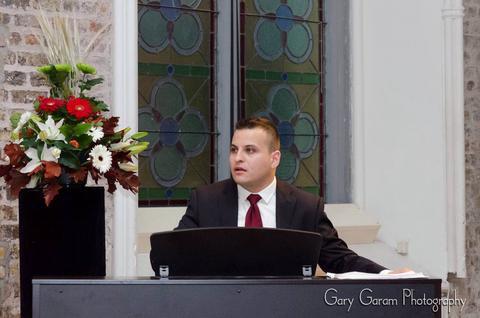 The grand hall was alive with chatter and colour upon entry but it wasn't long till a hush took over and the wonderful Hungarian Culture Days piece (composed by Márton Sipos) filled the room, set against our autumnal arrangements. After some brief speeches there was also performances by the Hungarian Chamber Choir, Zsuzsanna Kálló Bogdáné with Péter Sebestyén on the traditional Hungarian instrument 'citera', Knapweed, a Hungarian folk dance group based in Omagh, Nagy Gyula, a baritone singer from the London National Studio and even Padraig O'Neill and Ian Kinsella with a traditional Irish performance.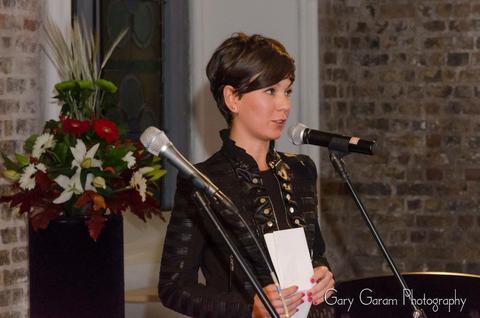 To complement the music and dance there was some Hungarian food and wine on offer which went down a treat. In fact, you might even say the wine went down a little too easily 🙂 As the night drew to a close, we were already looking forward to next year's event.
Lonely Bouquet at the Green Door Florist
Lonely Bouquet 2015: Last Sunday (June 28th) saw us celebrate Lonely Bouquet Day here at The Green Door Florist for the third year running. An initiative that began in Belgium in 2012, LBD is all about putting smiles on people's faces which is something we're very passionate about 🙂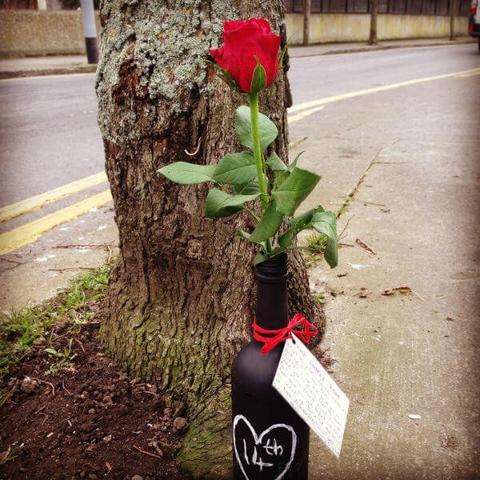 The idea is to brighten up street corners and thoroughfares with miniature bouquets and arrangements that passers by are free to adopt to brighten up their own homes. We were very busy bees all through Saturday preparing these guys and were delighted with how our summer flowers looked in these recycled tin which we spray painted our favourite colour 🙂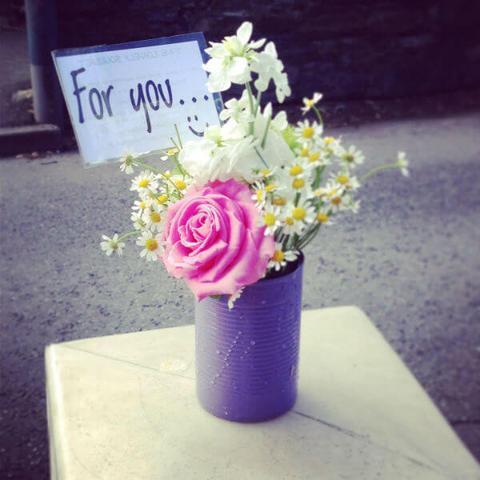 Our driver hit the streets early on Sunday morning delivering over thirty Lonely Bouquets across North Dublin including Killester, Clontarf, Raheny, Artane and Fairview and immediately they began catching eyes. If you happened to come across one we would love to hear from you and we hope it encourages you to take part next year, the tins we used are widely available and wild flowers or flowers from your garden will look just as good as ours.
Paul Daly:
Big thank you I got your lovely bouquet. Great idea I'm smiling all day. It now sits on my kitchen window.
Anne O'Gorman writes:
Sis Helen adopted then gifted lucky me this gorgeous bouquet. Thanks to The Green Door Florist for this bit of fun today.   Further information on LBD can be found here: http://www.thelonelybouquet.com/