We love events!
A special floral display is sometimes required for events.
Recently, Green Door Florist was invited to be a Premium Sponsor of the fifth annual Hungarian Culture Days celebration (http://www.hungarianculturedays.com) in Dublin City Council's Wood Quay function room and Filmbase in Temple Bar. Designed to celebrate the integration of the two cultures of Hungary and Ireland, this most special of events this year lasted for four days.
The organising committee timed the event to happen during the time of Pentecost which is a culturally important time in Hungary and other Eastern European countries. During the four day festival, the event showcased dancing, ancient stories covering Hungarian Tales and Celtic Legends, food and wine and of course flowers... The cultures and traditions of both Hungary and Ireland were celebrated.
The presence of the Hungarian community in Ireland as a growing community within the state was acknowledged by the representative of Dublin's Lord Mayor Mr. Ruairí McGinley.
The best of Hungarian food and wine was on offer and was truly excellent and enjoyed by all. From langos to "chimney" cake, homemade sausage (akin to the better known chorizo) and the often overlooked Hungarian wine it was truly a feast fit for a king!
Taste and colour was the order of the day, so the floral displays supplied for the celebration had to be special. I decided to focus on both the national colours and national symbols.
All of the arrangements had a natural feel to try to give the effect of being just picked from nature. This reminded me of my childhood walking in the fields at this time of year!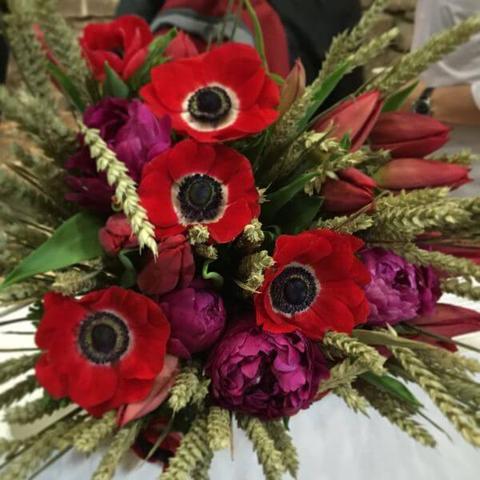 So, in this bouquet, designed for the formal opening night, peony roses (known in Hungary as the Pentecost rose as it blooms at that time of year) were used alongside red tulips symbolising the most ancient Hungarian folk motif and femininity. Poppies are very common in Hungary but as they don't last long in arrangements, I replaced them with anemones.                   There were two other arrangement styles for which the inspiration was the colours of the Hungarian flag: red, white and green where the natural feel I hope comes across with our moss bases.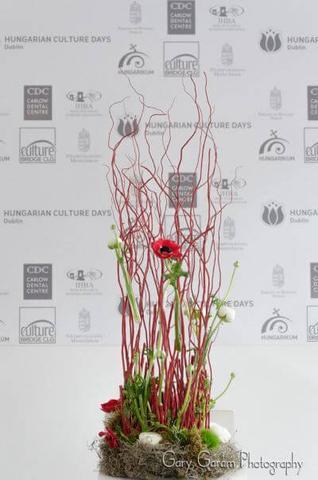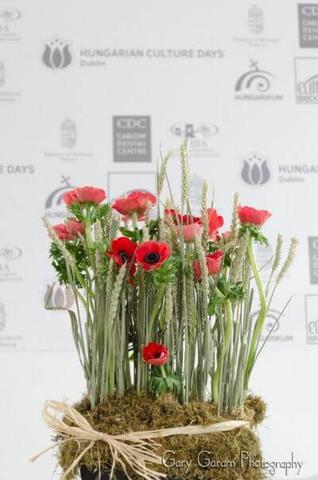 It is this kind of opportunity that really lets me express myself. In this case, it was a delight to be able to be that little bit different and to evoke my childhood memories through the wonderful texture, colours and smells.
Acknowledgements:
Organising committee: Beatrix Fekete, Andrea Nagy, Norbert Soltesz. Photographer: We would like to acknowledge photographer Gary Garamvolgyi.