The Lonely Bouquet Story - Green Door Florist On TV3
Lilla spreads the love with lonely bouquets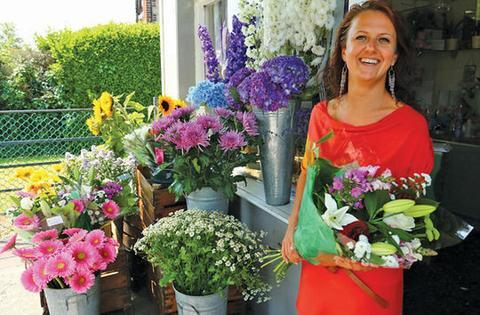 Photo by Darren Kinsella
WHILE the heatwave has been putting an extra spring in our step these past few weeks, an enterprising local florist is also doing her bit to put a smile on people's faces.
Lilla Zelenak, proprietor of 'The Green Door Florist' in Clontarf, has been spreading the love with the 'Lonely Bouquet' initiative, an idea she picked up from the Continent.
On June 30, the Slovakian native arranged bouquets, attached heartwarming messages to them, and left them at various locations in Clontarf for members of the public to pick up for free.
Bouquets were also left on the DART, the Luas and one outside a hospital in Clontarf.
The messages attached to the bouquets include 'Take Me Home', and 'I'm all alone and looking for a new home'. The contact details for the shop are printed at the end of each message.
Lilla told Northside People: "The whole idea came from Belgium, where a woman wanted to cheer people up. Now people have joined all around the world.
"It's a movement dedicated to spreading happiness and smiles, one flower at a time."
"I have received a great response to the initiative and already have 4,000 followers on Facebook."
Lilla said she received a phone call from a lady who said that after finding one of the lonely bouquets, it put a smile back on her face after she had broken up with her boyfriend.
"I was happy to bring a little cheer to her day," she said.
Another woman told her it was a lovely surprise to find a bouquet at her door.
Lilla, who has been living in Ireland for seven years, said that when she arrived first, her English was "very bad".
"I went to live with a family and minded their kids at first," she stated.
"However, I was always interested in floristry and went to horticulture school in Slovakia.
"I left my CV with two florists in Clontarf and got two interviews."
Lilla said she was offered a position in both shops but decided to accept a job offer with The Green Door Florist.
"I was working there for six years and got the opportunity to take over the shop on October 1, 2012," she added.
Lilla intends to continue leaving the lonely bouquets in public places. Keep your eyes open in the coming weeks and you might just be one of the lucky recipients!
More Information - https://greendoorflorist.com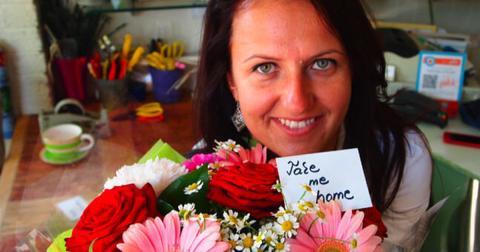 Lovely article from Her.ie
While last week's heavy rain may have dampened Ireland's mood, one florist is still giving Dubliners something to smile about. Lilla Zelenák, owner of The Green Door florists in , has been leaving surprise bouquets in around the city for passers-by to pick up and bring home, as part of the Lonely Bouquet initiative.
The Lonely Bouquet is a movement dedicated to spreading happiness and smiles, one flower at a time. The initiative, which started in Belgium and has now spread across the globe, encourages florists in each country to place bouquets at bus stops, train stations and commuter areas with tags saying "Take me Home" or "Adopt Me" and aims to brighten up someone's day after a long hard stint at work.
Various studies have shown that flowers in the home and office can significantly improve peoples' moods. A recent study carried out by Harvard Medical School and Massachusetts General Hospital found that a small bouquet of flowers in the home 'perked participants up in the morning' and 'made them feel less anxious and more compassionate'. Meanwhile, research by the Society of American Florists of people who have received flowers discovered that 60% believe that the sight and smell of flowers can improve their mood whilst 56% feel special when they get flowers.
Lilla Zelenák, owner of The Green Door, comments; 'As the first florist in Dublin to become a part of the Lonely Bouquet initiative, I'm hoping others around the country will get involved. It's great to be able to bring such happiness to people with such a small gesture. I have already had great feedback, especially from one lady who simply said 'it made up for having to be in work on a glorious sunny Saturday'.
'Flowers can have a huge impact on our moods. You don't have to buy giant bouquets or spend too much to reap the benefits they bring. A simple bunch of flowers or ornamental plant in the home or the office can really brighten up your day.'
Keep your eyes peeled at train stations and bus stops across the city this Monday as the Green Door for the latest Lonely Bouquet and make sure to share your experience on their Facebook if you're lucky enough to find one.
Read the article here

http://98fm.com/2013/category-news-sport/a-pick-me-up-for-dublin/ The Green Door Florist is inundated with radio reporters looking for interviews, maybe the TV crews will be next .... 🙂
98FM
Today FM
Dublin City Radio
iRadio
With the great surprise , we wake up to see we've hit the national press. The Metro Herald and The Irish Mirror both celebrate the idea of the lonely bouquet.