Photo Shoot: - Lights, Camera, Action!
We are having such fun with flowers for a photo shoot! Green Door flirts with fashion for the first time this month with Geza Oravecz Photography and Marta Krawczyk.
Geza Oravecz, is known not only as the hunky personal trainer in X-Body E gym, but also as a fashion photographer. He has photographed such stars as Rosanna Davison (Miss World 2003), Holly Carpenter (Miss Ireland 2011), Alan Hughes (TV3 presenter). He has also worked for different magazines like www.suburbiaweddings.ie and panto.ie. He also specialises in portraits from fashion to family. You can find more on Geza on Instagram, Facebook, or www.gezaoravecz.com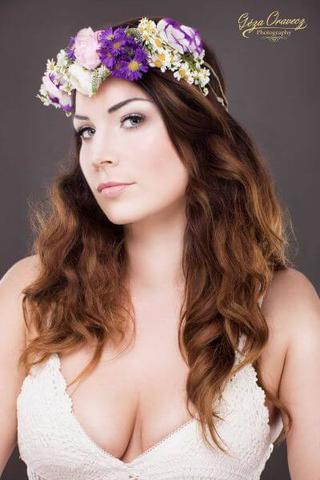 Geza and stunning plus size model Marta Krawczyk got together to do a photo shoot for Marta's portfolio and also with some other models. We were asked us to do the flowers. We spoke to all of them and discussed what was needed. Head pieces and corsages was the answer. We were delighted! Usually these delicate arrangements are only put together for weddings and debs balls, but this fashion photo shoot meant that we could really express ourselves and go for it!
We spoke to Marta, one of the models. Marta is a 30 year old Polish girl. She started out on an adventure with modelling about five years ago, noticing the new need for plus sized, curvy models. She sent a few of her pictures to agencies and landed a contract. Marta's life has changed since then. She became more confident, more open to meeting new people and would you believe, a lot more happy! She took part in lots of photo shoots in the commercial for the Polish magazines "Super Linia" and "Instil". She also took part in catwalk fashion shows in both Poland and Ireland. She presented fashion pieces on TV3 and on Ireland AM. What a superstar! She tells us that modelling is an adventure that gives her a lot of joy and happiness.
(You can find out more about Marta)
So, look what we did!
Photo Shoot Model Marta Krawczyk
Here is Marta looking simply spectacular in a crown of purple delicate soft feminine colours. We combined September flowers, lisianthus, veronica and other soft meadow flowers for this crown, to give the illusion of dewy petals just picked and placed on her head. Ingrid (a designer with the Green Door team) made sure that the crown is complimented with the delicate wrist corsage, which in the last picture is set to accentuate the décolletage.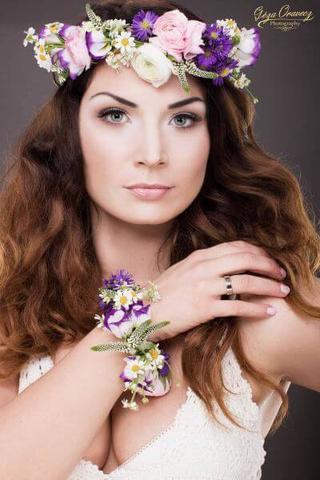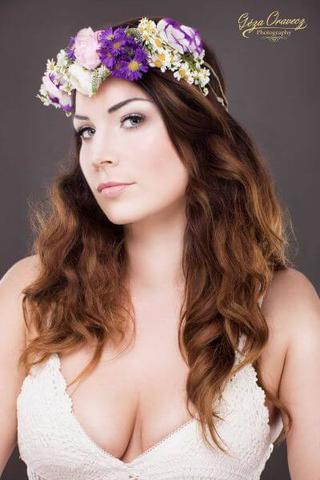 Here are two other creations put together by us, ranging from the spectacular large floral crown to the simple but dramatically beautiful single Peony rose head piece displayed in this picture.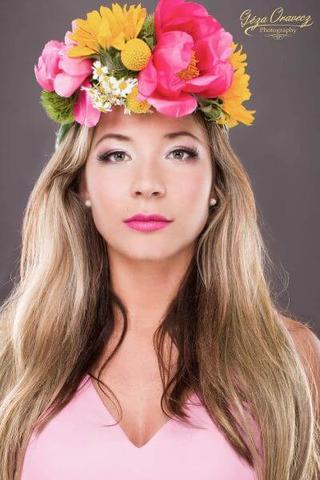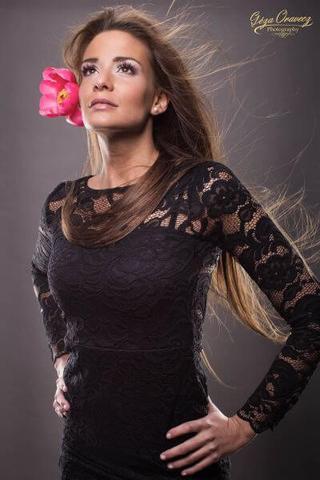 We hope that you enjoyed our voyage into the fashion world and that it will inspire some ideas for you for weddings, debs balls or any dinner parties and special floral occasions!
We have had a blast putting together this unusual blog post and we hope you have had fun reading it.