Aoife lives near our funky little florist shop. She and her mum are two of our friendly neighbourhood faces and they always stop for a chat whenever they're passing. We were delighted when Aoife asked us to cater for her wedding to Luke and it was an absolute joy to be involved!
Right from the beginning Aoife knew exactly what style she wanted. She didn't have specific flowers in mind, but she wanted a relaxed, natural style and she definitely wanted something a little more edgy than traditional roses.
She decided to opt for a brightly coloured palette, using some traditional pinks but with wonderful orange to liven things up and the end result was fabulous! Her bouquet in particular looked wonderful against the backdrop of her clean, white, 50s style wedding dress.
Aoife's bridal bouquet was formed from fluffy, pale pink peonies, lipstick pink sweet pea, playful yellow craspedia, and bright orange blooms. The diverse shades of pink and orange were married together with fantastic houdini garden roses, which have a lemon yellow centre and fade gently through orange and peach to a soft salmon pink. We even managed to squeeze in lilac limonium, burgundy astilbe and a variety of foliage.
For Luke we created a buttonhole in a mini bouquet style, echoing the same colours in Aoife's bouquet, formed from sunshine yellow craspedia, purple limonium, an azure thistle and muted green greenery.
For the ceremony, we put together a candle arrangement based on the same colour scheme as Aoife's bouquet, with the addition of tiger orange marigolds and kangaroo paws and extra foliage, incorporating silvery eucalyptus which contrasted perfectly with the orange and pink combination.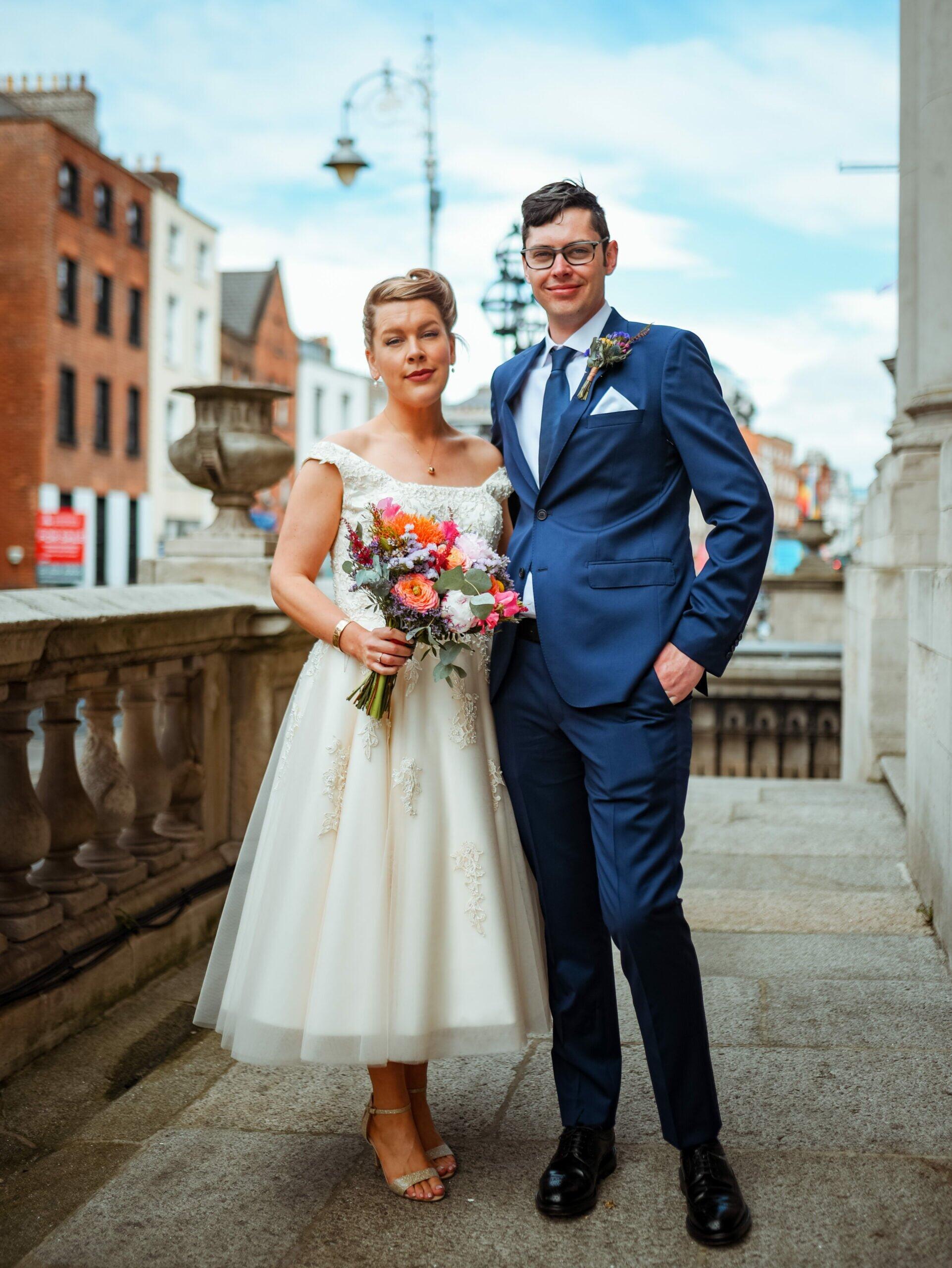 After the ceremony they had dinner in Brother Hubbard, where they had our popular little mini milk bottles on each table in the same colourful design as the rest of the wedding flowers.
Here's what Aoife had to say about our service:
"One of the best in the business! Lilla and her team use super high quality, beautiful and very unique flowers and always create something unusual and special for every occasion! The Green Door did the flower arrangements for our wedding and they were even better than I could have imagined. I really loved my bouquet. They are lovely, friendly people who are amazing at bringing their customers' ideas to life! Their shop also has lots of cute and quirky plants and succulents that are perfect gifts. I would recommend them for any occasion without hesitation."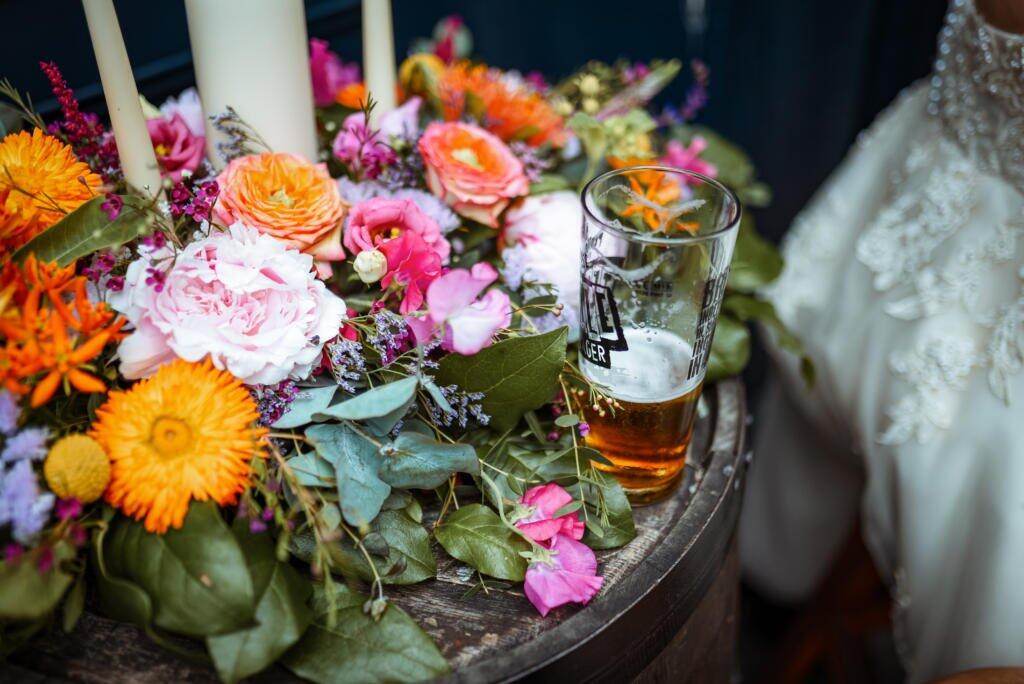 Jennifer works close to our store and used to pass our shop on her way to work.  Our flowers caught her eye so she started to buy flowers for her house as a treat.  Soon she became a regular customer and it was always a pleasure to see her cheery face coming through the door.  She is a real flower lover and we soon became friends.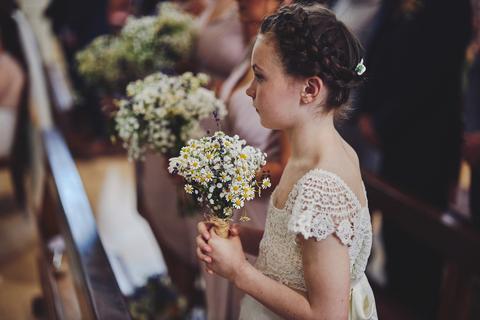 As Jennifer herself said, "Your shop front always displayed beautiful flowers with a quirky edge and I knew that we would be in great hands on our special day."
Jennifer's brief was to create a mix and match style, with lots of wildflowers, something slightly out of the ordinary.  She wanted something really unique and we think her wedding flowers really suited her upbeat, bubbly personality.  Take a look at the pictures below, shared by dkphotography.pix, to see her fabulous creations.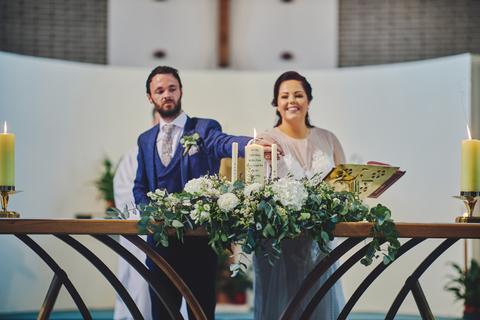 Jennifer and Mark were married in July 2019 at Mother of Divine Grace Church in Raheny village.  We created some very rustic arrangements for the ends of the pews and the bride and groom's chairs, heavy on the foliage with sprinklings of tiny white blooms, eucalyptus and gypsophilia, all tied together with bows of raffia for a really natural feel.  
There was also a table decoration around three white candles, with a simple yet elegant theme, using dark green mixed greenery and fresh white blooms, from large, crisp hydrangea to cute tanacetum.  
Jennifer was absolutely blooming at seven months pregnant, a fantastic surprise that came along while they were planning the wedding!  We loved her dress, with its exquisite lace,  beautiful floral train, and its own unique design with beading and laces on the forearm.  Her hair was fabulous too with her long, tumbling auburn curls and pretty hair decorations.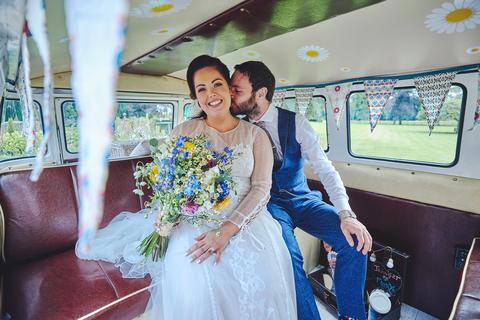 For the bride's bouquet we put together a beautiful posy of wildflowers.  We wanted something that would really bring some of Jennifer's bright personality to the flowers, so we used plenty of colour from a wide variety of blooms.  We kept the foliage light with only a little eucalyptus, the bouquet formed from plenty of daisy-like tanacetum, delphinium in bright blue and crisp white, star-like astransia and dahlias in canary yellow, burnt orange and magenta.  Here it is pictured with Molly the dog.  
The groom looked so handsome on the day and his buttonhole with bright yellow craspedia, spray chrysanthemums and wax flower, which contrasted perfectly with his bright blue suit.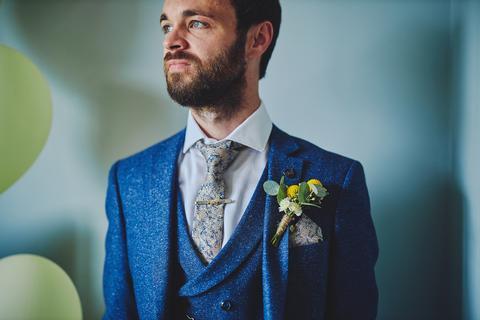 For the bridesmaids and flower girl we created large wildflower posies similar to Jennifers, but this time in more simple colours, mostly white with a hint of blue.  These were formed from an abundance of pretty tanacetum, fluffy gypsophilia and marguerite daisies with a touch of lavender for contrast.  We think they almost look like giant handfuls of confetti.
After the church ceremony, the couple traveled in a cute beige VW camper van adorned with bunting to their reception in Tankardstown House in Slane.  It's an incredible venue, with beautifully ornate interiors and fabulous gardens, and a light airy dining room featuring a glass ceiling.  
For the venue we created simple table decorations from dark green eucalyptus, marguerite daisies and white roses for a touch of romance.  The top table was adorned with a large display in the same theme, dark green mixed foliage with elegant white blooms; large heads of hydrangea, cute snapdragons, tiny wax flower and fluffy gypsophilia.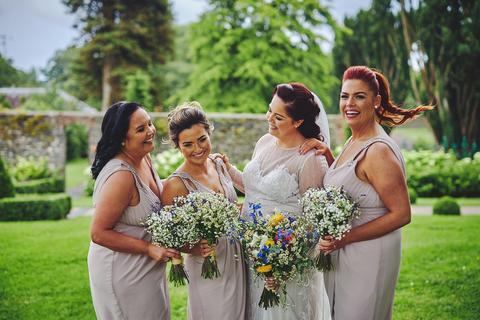 We're delighted that Jennifer and Mark had such a wonderful day surrounded by such elegance and it was an absolute pleasure to create such unique wedding flowers for this lovely couple.  Wishing you many happy years ahead!  
Here's what Jennifer had to say about her experience:
"Your flowers were amazing and all our guests loved them and were asking who did them.  I cannot praise you and Kasia enough.  We will definitely be recommending you to everyone, you're so professional and your friendly manner.  Thank you again for our beautiful wild flowers and being part of our special day.  Highly recommended to any brides to be."
Thank you for your kind words Jennifer & Mark.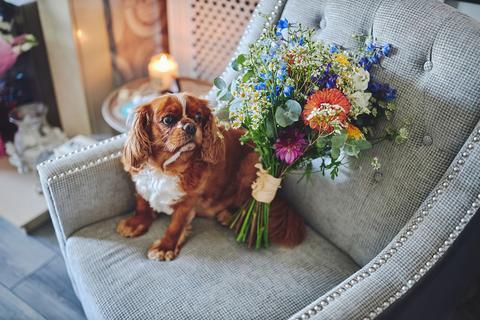 Take a look at some of the other weddings we've catered for and see how we can help you on your big day.
Aoife and Laurence's wedding was an incredibly memorable event for us.  We don't usually cater for weddings at Christmas due to fluctuations with deliveries and flower supply, but seeing as it was Aoife, I just couldn't say no!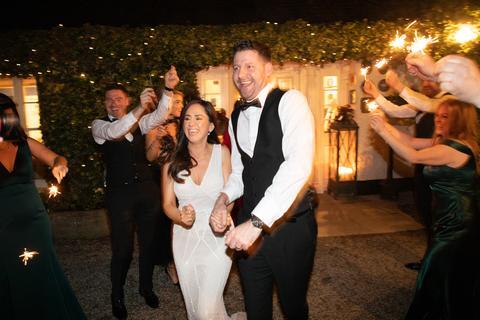 Aoife and I met through business.  She dropped into the shop one day to ask if we'd like to do a shared promotion with her business, Amari Lane beauty salon, in Killester.  We thought it was a great idea!  One thing led to another and soon we discovered that we had more in common than just businesses in the same location.  It turned out we both also had ties to Kilmuckridge, Co. Wexford.  Pretty soon we were good friends; she did my nails and I supplied her flowers.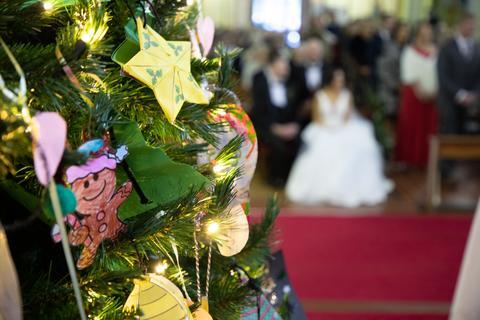 When she asked us to cater for her Christmas wedding, we knew we were going to have to get really creative to ensure we could find flowers for her big day.  Luckily, Aoife's brief helped us out.  She wanted a very rustic, down to earth wedding, with the special request of using a lot of mixed greenery from her farm near Kilmuckridge, where they had just built their new home.  I usually spend Christmas in Kilmuckridge, so together we came up with a plan - to create her wedding in my kitchen!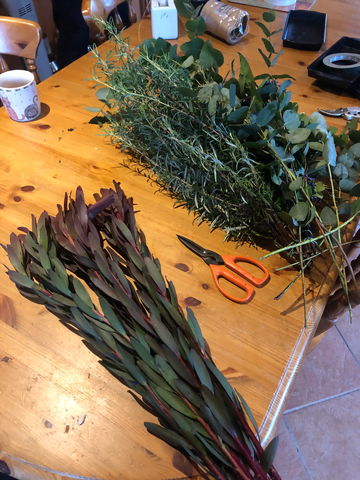 As it turned out, we ended up having the most fantastic time, starting out with a foraging session on her farm to select whatever enticing seasonal foliage the countryside had to offer us!  We added a few items from the shop, but managed to keep 90% of the ingredients organic and sourced from the local area.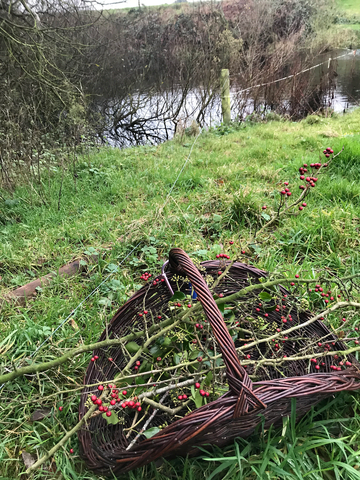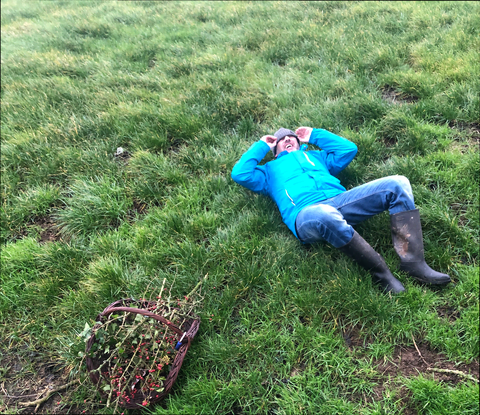 When Aoife's special day arrived, we decorated the pew ends with informal clusters of foliage heavily interspersed with bright red and midnight blue viburnum berries, tied together with a broad cranberry coloured ribbon, the perfect contrast to the deep green foliage.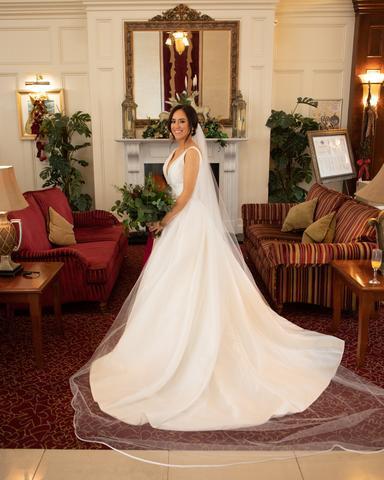 Aoife looked beautiful in her incredible dress, so elegant in its simplicity, with layers of chiffon under the A line skirt and an intricate design of crystals and pearls at the waistline.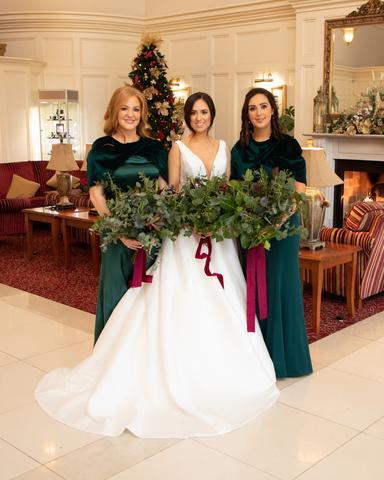 The bride and bridesmaids' bouquets were the highlight of the flowers on the day.  We created large bouquets with a loose formation, combining a range of blues and greens which complimented the bridesmaids' emerald dresses, and tied them together with the same cranberry coloured ribbon to match Aoife's mother's dress.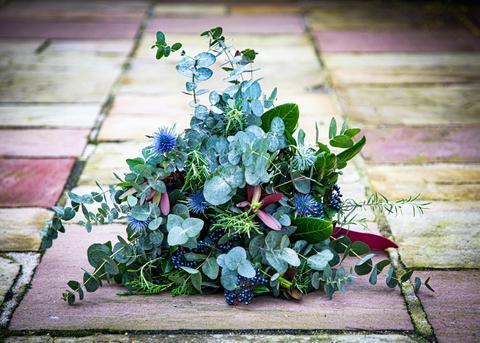 Azure thistles and indigo viburnum provided the blue tones, and we used plenty of silvery, sea green eucalyptus to blend them in with an assortment of deep green foliage, including rosemary, ivy and fern.  We also added a touch of burgundy leucodendron as a highlight to echo the cranberry of the ribbon.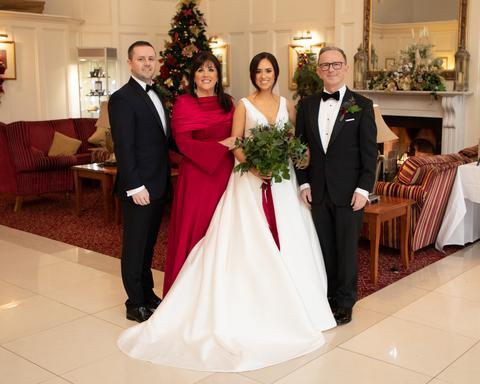 We created buttonholes in the same style, using deep green foliage with thistles and leucodendron as an eye-catching feature.  Laurence and the father of the bride looked very dapper in their black tuxedos and bow ties!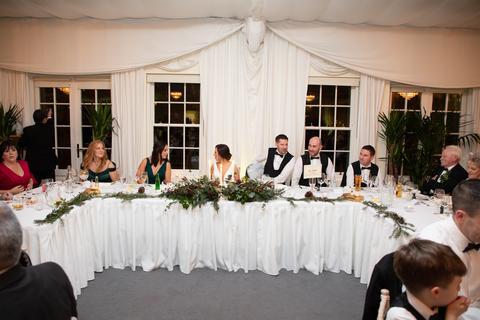 The venue for the reception was the wonderful Rathsallagh House in Wicklow, who provided an incredible dining room that absolutely sparkled even in mid-winter, with it's bright white decor and fabulous silver ceiling drapes.  We created a long and low table arrangement in keeping with our theme, using plenty of greenery and three white candles.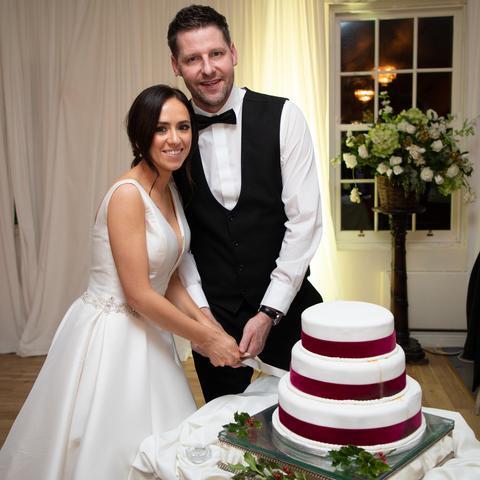 The cake was a simple, three tiers with white icing, adorned with the same cranberry ribbon, and holly to echo our local foliage theme.
Thank you so much to Aoife and Laurence for asking us to do your wedding flowers.  We had a ball!
Here's what Aoife had to say about our wedding service:
"If you are looking for a wedding florist look no further!!  Lilla and Kasia arranged the flowers for my wedding on New Year's Eve last year and I was absolutely delighted with them.  We had a consultation with them and they had some amazing ideas and knew exactly what I wanted.  I wanted to incorporate foliage from the farm where I live and that was not an issue!  Our top table piece and pew ends were gorgeous and got so many compliments. Our bouquets were beautiful and the lads loved the buttonholes!  Thanks so much Lilla, Kasia (and Stephen ☺️)"
Photography by richardgavin.com 
Lorraine had always planned to do her own wedding flowers.  She is a makeup artist and very creative, she absolutely adores colour and textures.  Unfortunately, what with everything going on in the run up to the big day, she ran out of time.  It was when she received one of our very popular mini milk bottle arrangements as a present from a friend that she decided she loved our style.  That's when we came to the rescue and provided the flowers for her charming city wedding.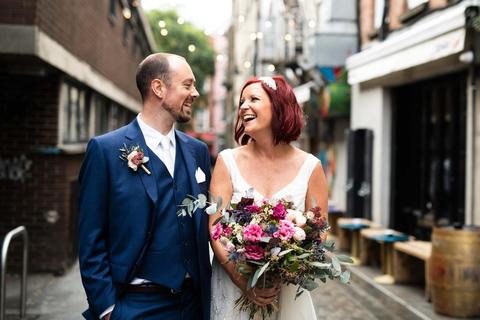 We absolutely loved the brief that Lorraine gave us.  She wanted a natural but compact style, not too bohemian, with a mulberry palette using a mixture of shades ranging from light to dark.  We thought it would create a really wonderful, romantic feel and we were right...check out the pictures below, provided by Nicola Wester (www.nicolawebster.com).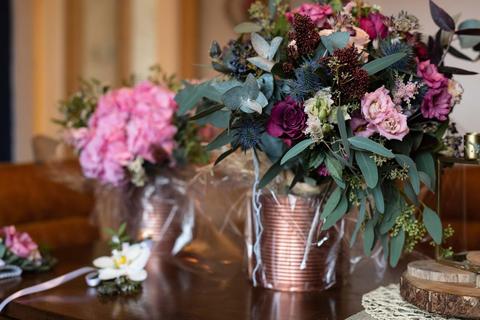 Lorraine & Niall's wedding took place in October 2019 at City Hall.  The bride and groom looked stunning in such grand surroundings.  Niall wore a clean cut, dark blue suit with white shirt, tie and handkerchief and Lorraine wore a simple yet elegant gown with delicate beading and a soft fluffy effect created by ostrich feathers around the bottom of the skirt.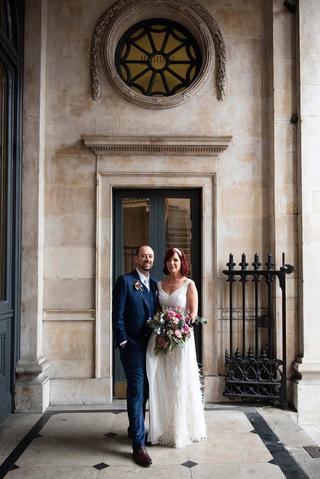 For the stunning bride, we created a large posy, absolutely overflowing with exquisite blooms in every berry shade.  For the deeper tones, we used mulberry coloured skimmia, which has a lovely vintage feel, deep magenta coloured roses and fascinating burgundy cotinus.  The lipstick pinks and pastel pinks were provided by a range of frilly spray roses and romantic lisianthus, then we added pretty white wax flower to lighten the tone.  Together the flowers created a delicious feast for the eyes, reminiscent of summer puddings with cream.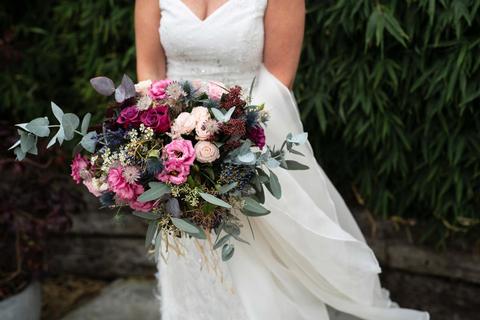 The foliage was mainly eucalyptus with an ethereal, silvery, sea green hue, so we added lavender and viburnum berries in a deep indigo to marry it with the deep purples.  We added pale purple astransia and azure thistles for texture and tied it all together with raffia to create a natural effect.  We loved the tiny photo Lorraine brought of her late father, Frank, which she attached to the bouquet so that he could be there with her on her big day.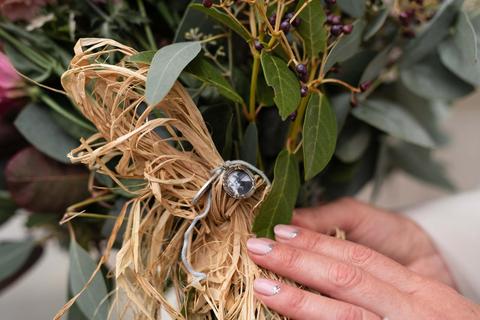 For the handsome groom we created a buttonhole from selected flowers from the bouquet; a pale pink rose teamed with dusky pink skimmia and tiny fronds of lavender, wax and eucalyptus for added texture.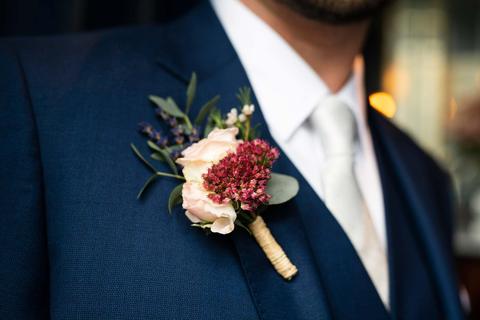 The bridesmaid's posy was a simple affair but just as delightful, dominated by giant lipstick pink hydrangea, with a sprinkling of wax flower, blue thistles and eucalyptus.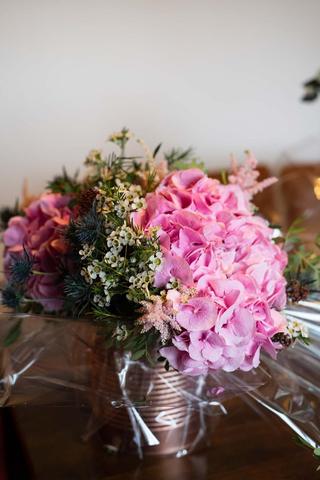 The reception was held at Fallon and Byrne, so we created some beautiful decorations along the same theme to grace the tables.  Some were our mini milk bottles, which we customised to Lorraine's mulberry theme, with blooms in a range of pinks combined with deep green foliage. 
Lorraine provided a selection of beautiful vintage vases, in keeping with our mini milk bottle idea, so we gave each vase its own unique arrangement, ranging from large to small.  Some were simple, formed from a single rose and pale pink astilbe, others were more complex, incorporating a variety of blooms, thistles, astransia, white wax flower and foliage in the form of eucalyptus and cotinus.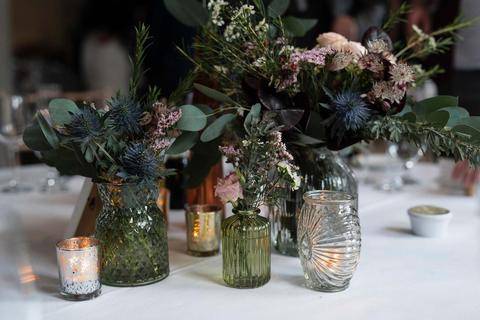 We really loved catering for this couple's special day.  We think Lorraine's theme was absolutely gorgeous, full of romance and perfect for a wedding.  Here's what Lorraine had to say:
"You guys are so unbelievably talented! Every time I look at pictures of the wedding I'm just so happy you were our florists, they just make the pictures magical!  And EVERYONE commented on how beautiful they were even strangers, as we made our way from City Hall to Fallon and Byrne. Thank you so, so much for bringing the magic!  You guys are superstars!"
Visit our wedding section and see more examples of our wedding arrangements to help you decide what you'd like for your big day.
Maybe one of the pictures of wedding bouquets could go to wedding gallery?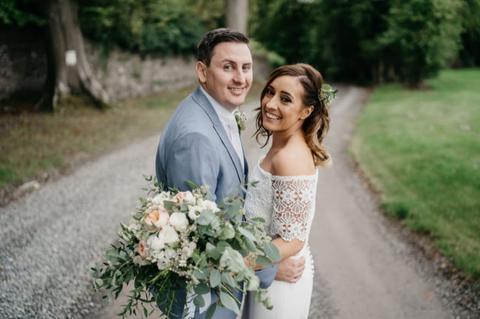 Nicola came to visit us to arrange her wedding flowers as she was inspired by one of our previous brides, Sinead.  Nicola is a lovely, friendly girl and she was looking for a relaxed and fun style, something fairly loose and fluid with pastels, peach tones and greenery.  We were delighted with the brief and confident we could put together the perfect collection of arrangements for her.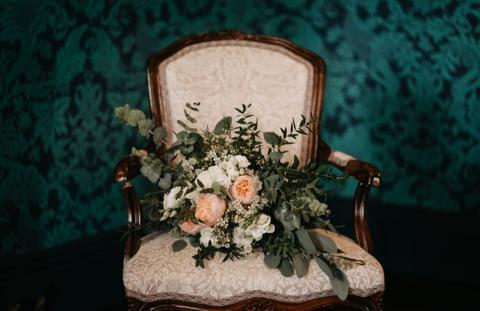 Nicola and Barrie had an autumn wedding, in September 2018 at Boyne Hill House in Navan.  The venue is a picturesque country house, set in a beautiful parkland estate. As you can see from the pictures, we created a very romantic collection for her, with an old world feel which complimented the vintage air of the venue, with its elegant chandeliers, decorative wallpaper and antique furniture. 
Nicola's bouquet was made up of classic white roses, white lisianthus and the soft, peach coloured blooms of David Austin roses.  We used white wax flower and astransia to give a star like feel, which echoed the pretty floral lace design on her dress, and plenty of foliage, made up of the deep green and silvery tones of eucalyptus.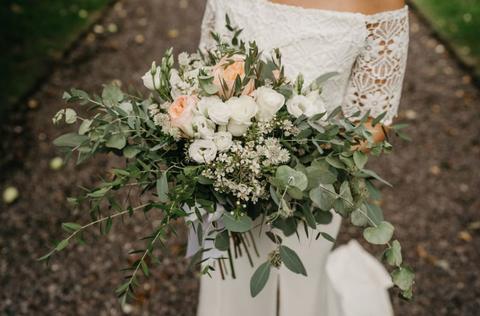 Nicola also requested a hair comb which we made from eucalyptus and wax.  We thought she looked beautiful with her loose tousled curls swept back elegantly at the side with her comb, and the closed buds of wax like confetti floating above her head.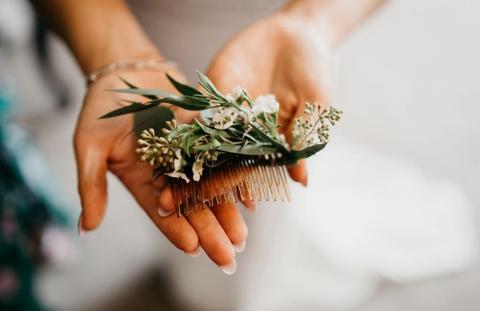 The bridesmaid's bouquets were smaller, but had the same theme as Nicola's bouquet, the cream and silvery tones complimented their shimmery, ivory gowns perfectly.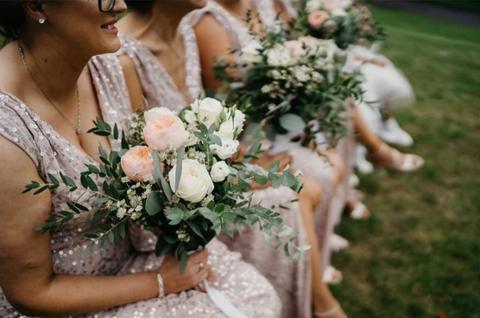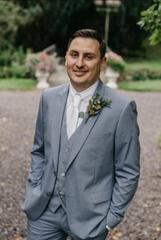 We made up buttonholes for the groom and several of the gentlemen, who all looked very smart in their light grey suits, for the page boys and mothers of the bride and groom, mainly from eucalyptus and wax, in keeping with the main bouquets.
The wedding took place in the Secret Garden, the aisle made up of a white carpet beautifully lined with topiary trees.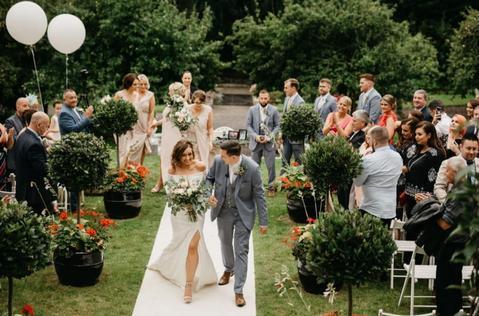 And in the evening they continued to celebrate outside with sparklers for a truly magical feel.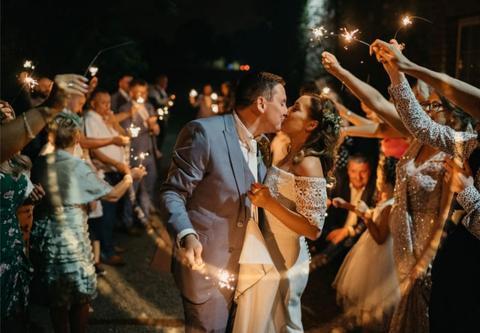 It was an absolute privilege to provide the flowers for this beautiful wedding, which was so full of character, and we think the gentle pastel theme was captured perfectly by the photographer igstudio.ie. 
Nicola was delighted with her flowers and emailed us afterwards to give her thanks:
"Hi Lilla,
I just wanted to thank you for the amazing job you did with our flowers!  The bouquets blew me away when I first saw them and my hair comb was just perfect, as were the buttonholes!  We had so many compliments all day! Thank you again so so much, everything was so perfect!
Nicola xx"
Here at the Green Door Florist we love catering for weddings and we would be delighted to take your order for your special day.  We take great care in listening to your specific requests so that we can put together the perfect collection of flowers for your event.  We love providing something unique that will create a really magical feel for your wedding. Call us today to explain what you're looking for!
photocredit: igstudio.ie
Also checkout out our review on the following site: https://www.flowerdelivery-reviews.com/best-flower-delivery-dublin/
When Stephanie and David came to visit us at the shop, they were very easy going, nice, and down to earth. This was reflected in the style of flowers Stephanie wanted for their wedding. She wanted meadow style flowers in pastel colours; peaches, creams, pinks and whites. She was aiming for an elegant girly array of simple and classic flowers.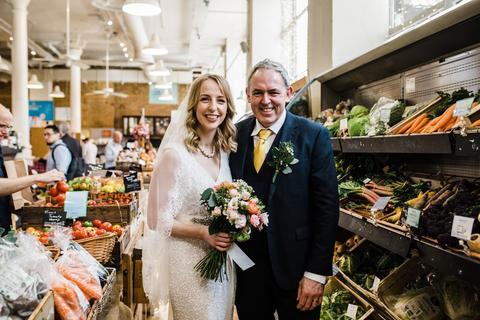 The venue was they choose was Fallon and Byrne; perfect for real Dublin city vibe. It gave an urban chic feel to the day. We composed the bride's bouquet with coral ranunculus, pale pink spray roses, and white lisianthus. The tonal choices gave a soft feel to the bouquet, allowing the beauty of the bride to speak for itself. They came together to create a polished, and graceful arrangement that suited Stephanie and Davids personalities down to the ground.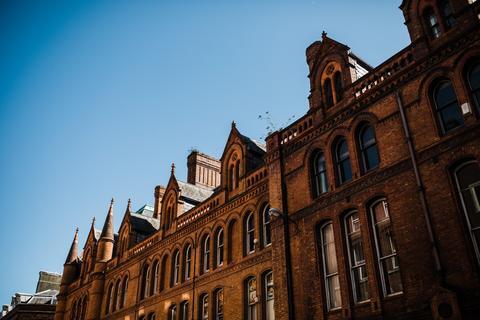 The Groom and best man buttonholes were very natural and vintage looking with white wax flower and leaves of eucalyptus. The classic combination matched their suits while tying them into the theme. They matched Stephanie's bouquet perfectly while maintaining a unique vibe.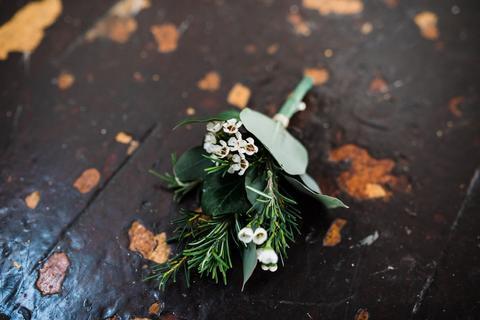 For the venue, we created unique table arrangements that were very original and rustic. Fallon and Byrne went above and beyond to facilitate our decorating. Together with Stephanie and David, we chose a mixture of flowers matching bride's bouquet which were then presented in glass jars on each table. The glass jars tied the rosy, elegant flowers with the homely feel of the venue. The pastel colours complimented the simpler feel of the venue's décor, creating that classic tension between feminine and masculine spaces. The end product was a beautiful sight.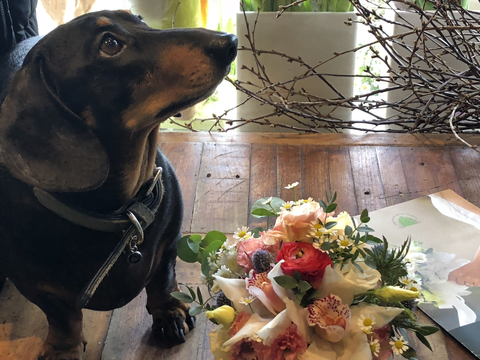 Later I found out, via social media, that Stephanie and David are happy owners of a miniature, shorthair dachshund, Milo. This brought me back to childhood memories as I had a couple of dachshunds when I was a kid. From then on, Stephanie and David weren't allowed to enter the shop for the consultations without Milo. Seeing the three of them made my day. Milo helped us find inspiration for the arrangements and made sure we didn't get too stressed out on the longer days.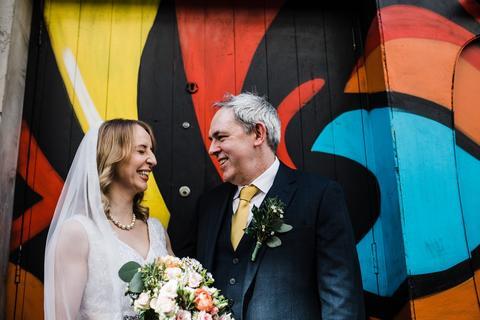 The colourful Dublin City and the meadow-esque style of flowers blended together very well leaving an original overall picture. The delicate flower choice contrasted stunningly with the urban choice of venue. The little finishing touches on the groomsmen's buttonholes made all the difference, tying the day together. Stephanie and David made our job easy as they knew what they wanted but were happy to take advice from us, the experts.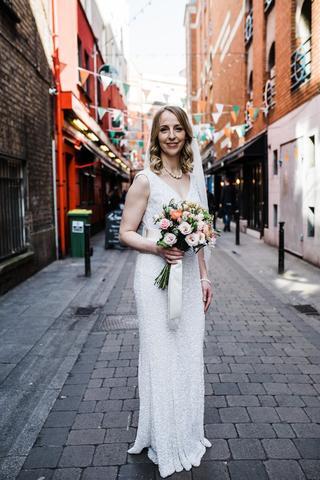 Green Door specialises in unique days. Making fairy-tale weddings come true is our dream as well as yours. Creating fantastical bouquets, and eye-catching table pieces is what we do best. We have the knowledge, we have the skills, now all you need to do is ask. If you have a dream wedding in your head waiting to come out, drop into the shop or contact us via the website; we would love to make your floral dreams come true.
Our story with Aoife and Alan started with a social media competition on the Green Door page and ended with a wedding!
When Aoife came in to have a chat about her flowers, she was not specific. The only thing that she was certain about was : colours, colours and more colours and of course, sweet william…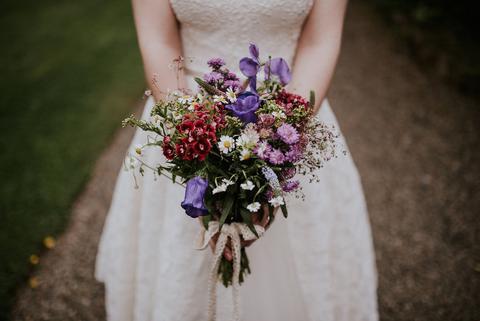 Aoife's bridesmaid Roisín, she had an absolutely different bouquet, perfectly matching her pretty blue dress with loads of flowers. She also had huge headed pink gerberas with a combination of other flowers to retain the wild look.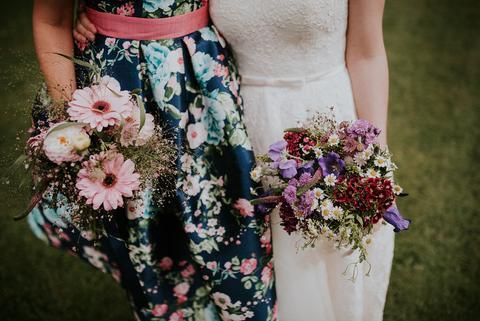 Speaking of Roisín, it turns out she was a bit of a white witch! We have to share this cute, romantic story with you. When Aoife went on her first date with Alan, Roisín said "let me know when I can buy the hat". At that time they were only in their late teens. The spell had been cast though and this year, Roisín is now Aoife's bridesmaid. How cute is that!!
Let's not forget the bridegroom! We just loved Alan's buttonhole. He chose a Beatles guitar plectrum to cover the binding on the wild flower buttonhole and it looked epic. No better way to make sure he wasn't overshadowed on the day.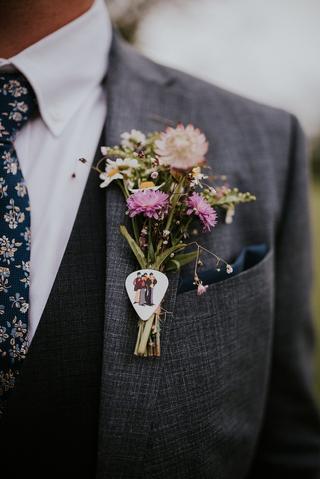 One other very important member of the family is Aoife and Alan's dog Willow. Willow is a little "energy bomb". Unfortunately, the venue couldn't let Willow attend the ceremony. If she had been, I'm sure she would have made a perfect second bridesmaid 🙂
We decided to make a special flower collar for her for the big day so she would feel included. Surprisingly, the flower collar lasted the day and she looked as pretty as a picture.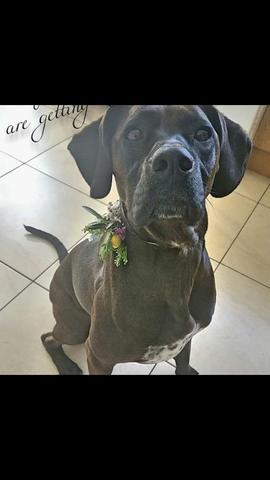 For the ceremonial table, the couple decided to go for another informal option. They chose loads of colours and flowers in a fabulously romantic
lantern vase
.
For the rest of the table decorations, as Aoife's Mum Joanne is a big fan of flower arranging, we simply supplied her and the rest of the family with the flowers and jars and the whole gang set about putting together the table arrangements themselves. What a tremendous tribute to this lovely couple. The end product was exceptional. If any of the family need a job in Green Door Florist, we would be happy to receive the CV's!!
From start to finish, this laid back couple and their families were an absolute pleasure to deal with and we thoroughly enjoyed helping them set up their wedding celebrations. We would like to wish them (and Willow!) many, many years of happiness together
.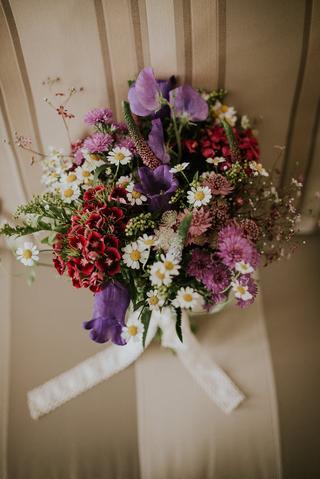 A wedding just that little bit different
This was a wedding just that little bit different. Every now and again, a couple comes along that just matches our style perfectly. We do enjoy all weddings. The formal wedding, the casual - all sorts. This one was different though! We love a challenge and we went with this all the way. Our designer listened carefully to the thoughts of this couple.
Informal
Gwen and Gavin knew they wanted something informal, that was for sure. They had no fixed ideas before arriving into the shop, so we all worked together to find the right solution for this one off wedding. The theme was simple and natural. The venue for the wedding ceremony itself was the Smock Alley theatre  with the reception upstairs in Fallon and Byrne.
The couple were steeped in luck with beautiful autumnal sunshine streaming through the white curtains for the afternoon.
Gwen's bouquet was a masterpiece. There were lovely deep colours with a touch of romance, black, Bordeaux, pink, white... just look at the bouquet for yourselves.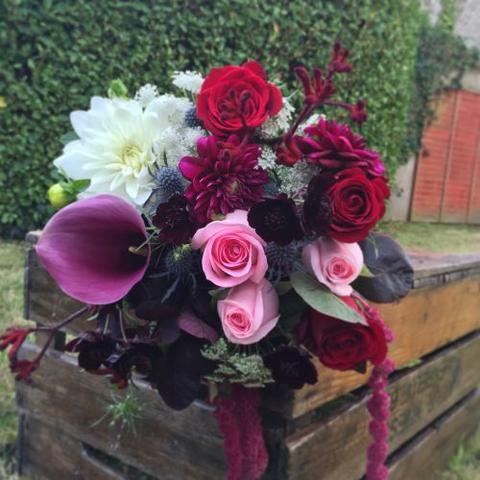 Gavin and the best men each had different suits, but with matching orange ties. Fabulous! Therefore, we went with different buttonholes for each man with nothing matching. No formality.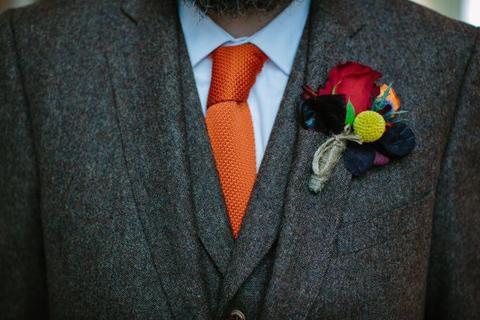 For the ceremony, there was no traditional unity candle arrangement. Instead, we used an eco-friendly large jar with similar style of flowers from the brides bouquet giving the feel of  flowers just picked from the garden that day. They looked stunning.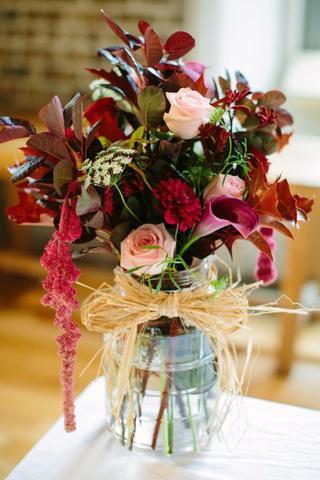 In Smock alley we also did the pews and the arched as this was an autumnal wedding the style was harvest with Chinese lanterns (Physalis), wheat, oak leaves and craspedia. See the photograph below. The arch was tricky, but we loved the finished product.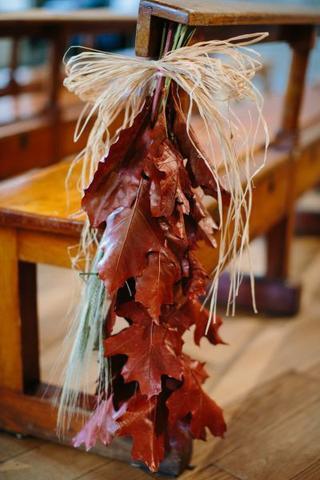 The Reception
The celebration continued in Fallon & Byrne - guess what, there were no traditional arrangements! Gwen and Gavin went for tall glass jars filled with a similar style. All of the jars were (naturally!) different from each other although were very complimentary. Again, just link at the pictures below.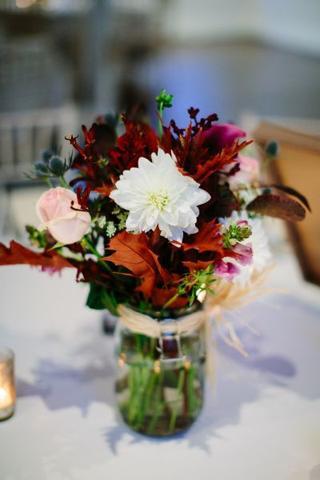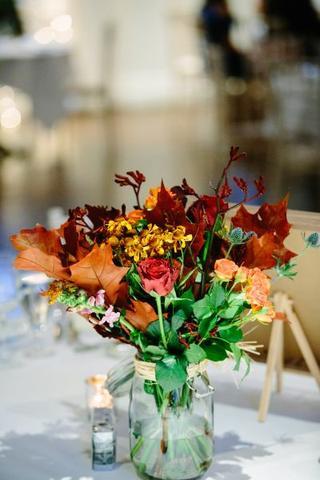 This couple love their music. As a result, each glass jar was accompanied by an album cover of Gwen and Gavin's favourite artists. Very cool! We loved being a part of this happy day. Viva la difference! We were particularly delighted to be involved with this special occasion.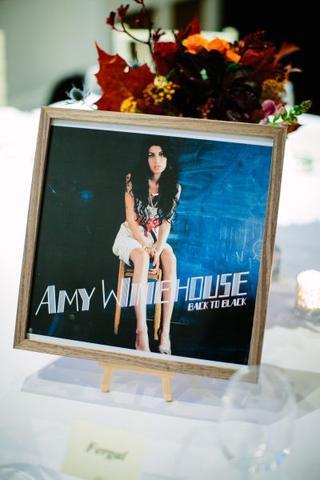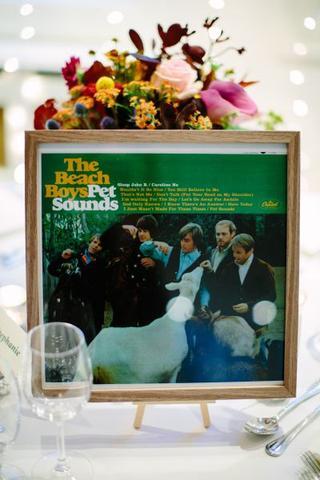 We wish this extraordinary couple a very happy future and all that life can bring. xxxx All photographs ( otherwise noted) taken by the wonderful wedding photographer Elisha Clarke
Summer time Wedding!
A story of a summer wedding...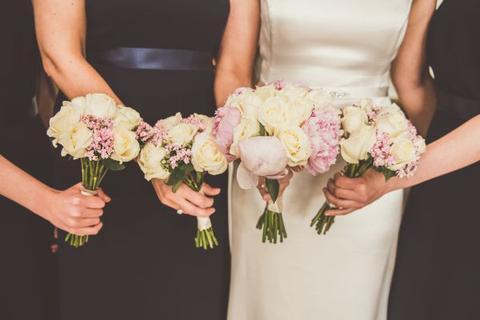 A summer wedding is always a joy. Caroline and Nathan were recently married in St. John's church, Clontarf and on to the Morrison Hotel. We were chosen to supply the wedding flowers for the big day. It was a real privilege to work with this couple and to help them on the day of their marriage. They were such an easy couple to deal with.
This is the season for flowers, with nature spoiling us by providing a huge range of delightful blooms to choose from, making this summer wedding a real treat for us. Caroline selected the peony rose, which really was a superb choice. These beauties were bang on in season and were just so fresh and delightful. Just look at the photos! We know that when the wedding pictures are being looked at in years to come that this excellent choice will shout out "summer wedding" with this queen of the summer roses.
The church flowers were prepared using natural pew end arrangements, two large pedestals and the unity candle arrangement. All very simple and natural as you can see.
The bridesmaids and bride had elegant hand tied bouquets. The groom and his four groomsmen looked very handsome with their classic buttonholes to complement the bridal party flowers.
The reception
After the ceremony, the party continued at the reception in the hotel where we had prepared individual small bowl table arrangements for each table as a centrepiece. In the photos, these arrangements are shown grouped together at the foot of the wedding cake. Prior to the day we had the pleasure of meeting Jen and her partner from the cake suppliers (www.cupcakesandcounting.com). We worked with this company, supplying them with the flowers to incorporate into the cake. This ensures that the theme of soft colours, beautiful pureness and simplicity follow through. The cake was wonderful and these guys are real masters of the art of the cake!
The Photos
We have put the photos up with kind permission of the couple so you can see how it all worked together. Credit to the photographer also for the super shots you can see here (www.emmarussellphotography.ie) What a great day... We wish Caroline and Nathan a wonderfully happy life together and hope that they have a long and joyous marriage. What a lovely couple!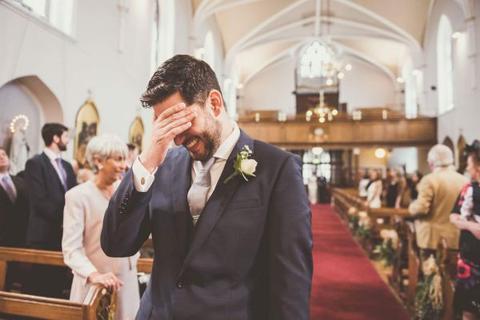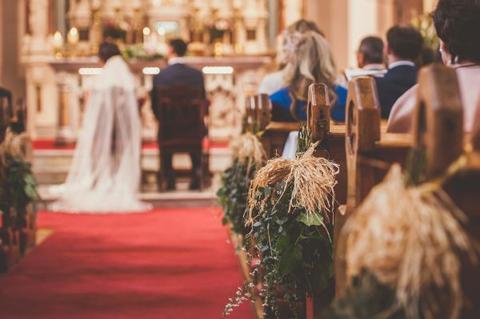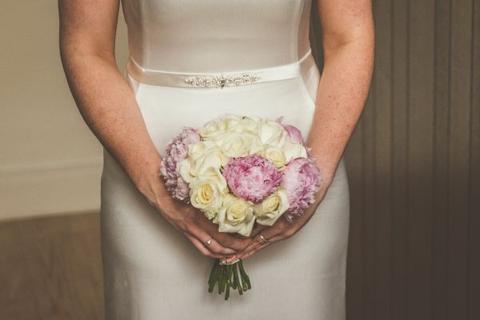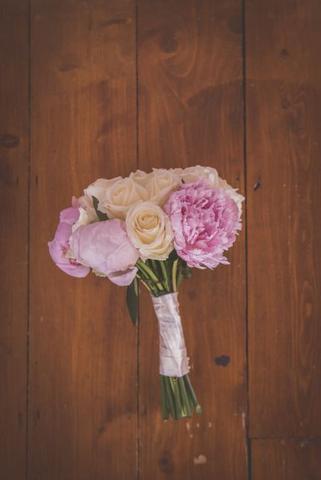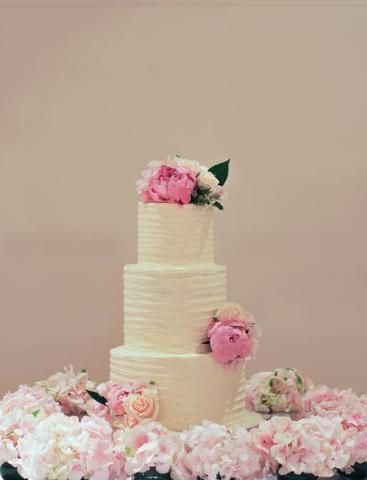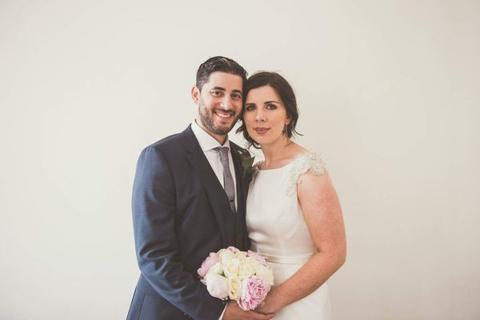 Are you planning your big day? if so talk to us about your wedding flowers E:[email protected] or T:(01) 833 6268